Crime scene cleanup and decontamination is a sensitive job that requires a high level of expertise and training. In essence, you have to strike the right balance between compassion and professionalism when handling and disposing of biohazard materials, as well as restoring the property back to its original condition. At the same time, you have to treat the affected families and property with decorum.
Reasons why crime scene cleanup is important:
It protects affected parties from possible diseases.
Prevents the onset of anxiety, trauma, and depression in affected parties.
Sanitizes the affected area.
Assists in handling legal obligations.
Restores the scene to its original state.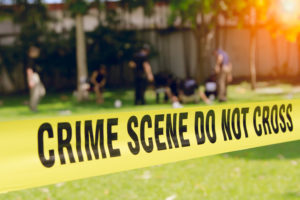 Cleaning up a crime scene requires special training in handling biological fluids, hazardous materials, and debris. The aim of this thorough cleanup exercise is to protect the occupants in the living environment from exposure to dangerous pathogens and diseases.
Even though crime scene cleanup is a special task reserved for trained professionals cleaners, you can take drastic steps to preserve and prevent cross-contamination:
Seal off the area until professional cleaners arrive.
Keep kids and pets away from the affected area.
Our professional technicians are specially trained to handle your situation while ensuring that your privacy is upheld.