Vehicle Upholstery Cleaning
Keeping the interior of your car fresh and clean is just as important as washing the outside. Unfortunately, many car owners tend to ignore this aspect. Nonetheless, this is sometimes understandable, since vehicle upholstery cleaning requires special equipment and solutions to get rid of the stains, molds, grime, dirt, and debris. Bring in our professionals in Poway for vehicle upholstery cleaning services.
A car's upholstery might become dirty and unkempt for several reasons, including:
Grime and spillage.
Debris, dirt, dust and food crumbs.
Mold due to dampness.
General wear and tear.
Driving a car that has dirty upholstery can make you feel uncomfortable. Moreover, molds and harmful bacteria typically thrive in such dirty conditions, and this can cause a variety of ailments, allergic reactions and discomforts. Dirty vehicle upholstery can also reduce the value of your car.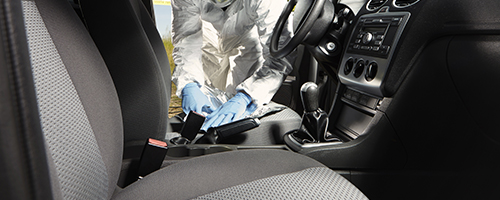 Here are a few ways you can help maintain your vehicle upholstery:
Remove and clean the floor mats before vacuuming the upholstery.
Regularly vacuum your vehicle's upholstery from top to bottom.
Avoid using a brush on leather seats. Use a damp cloth or a microfiber cloth instead.
Seek professional help from West Coast Restoration & Cleaning for vehicle upholstery cleaning services in Poway.
Vehicle upholstery cleaning is a tough job that requires a high level of expertise. Whether your car has leather seats or fabric upholstery, our crew of professional cleaners at West Coast Restoration and Cleaning has what it takes to get the job done. Give us a call to learn more about our vehicle upholstery cleaning services in the Poway area.